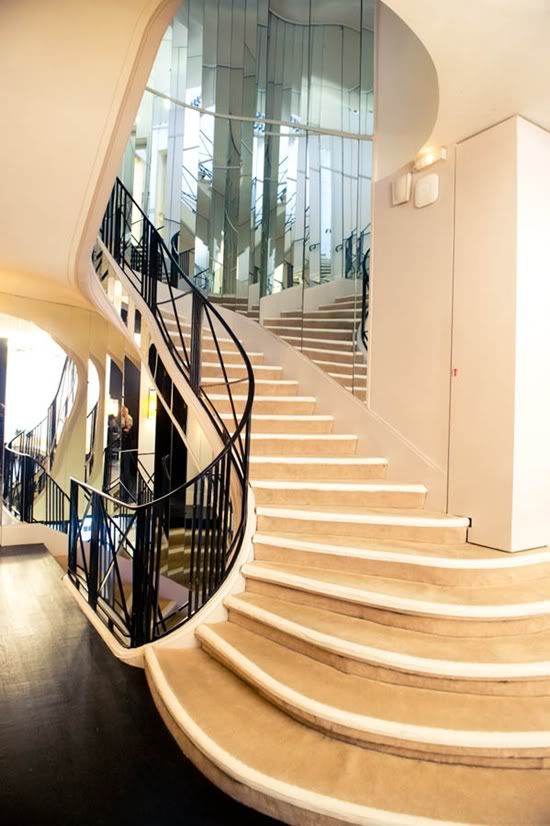 During the fashion shows, which took place down stairs, Gabrielle Chanel would sit on the staircase. Thanks to the mirrors she could see everything taking place, but no one could see her. She wanted to know the immediate reaction, if the journalists and clients were pleased with the collection.
Coco Chanel believed in the healing power of crystal. She had this chandelier custom made. Can you spy the iconic 5's?
Coco designed this couch herself. She wanted it to be very comfortable. Normally people used silk or velvet, but Coco used suede, which was very cutting edge.
Coco was very close with artists such as Giacometti, Stravinsky and Dali.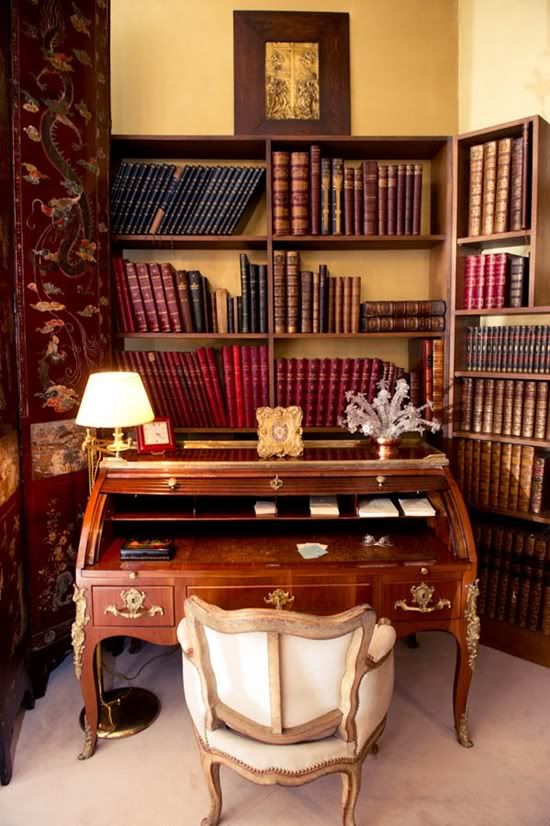 All of Coco's books have deep red tones. Just like the iconic lipstick she created and the inside lining of the bags
In this picture you can see objects that were very important to Coco. Pairs of lions, beige suede on the chairs and Chinese screens.
Coco was a Leo and she incorporated it's symbol, the Lion, into her personal space.
The top of these tables are black lacquer but the first time they were marble. Gabrielle Chanel wanted to take off the marble and wanted to have the black lacquer. It may remind you of her make-up- black lacquer with the logo on top.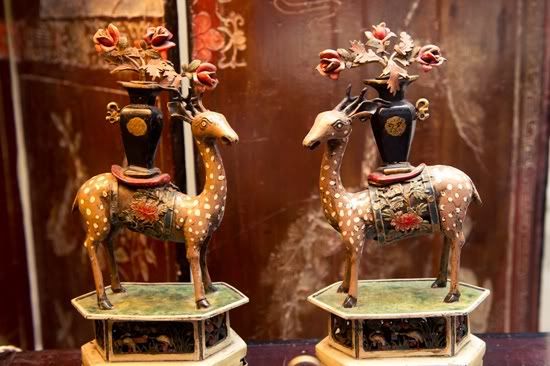 Japanese deer could be seen in pairs throughout the apartment.
Coco was very superstitious. Elements of this can be seen all over her apartment with sculptures of different animals and religious artifacts. She wanted to feel protected at all times.
When the mouth of a frog is open it is to bring love, luck money and health. If you look closely you can see a crystal placed in it's mouth, another important symbol for Coco.
This birdcage was the inspiration for Vanessa Paradis' "Coco" perfume campaign.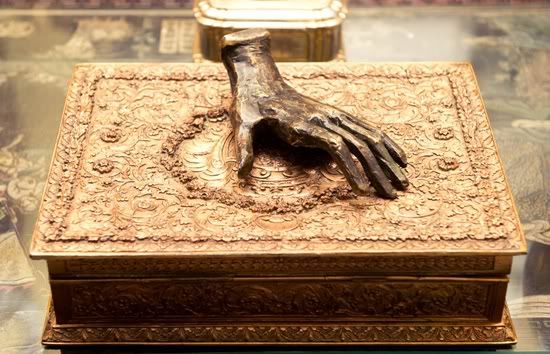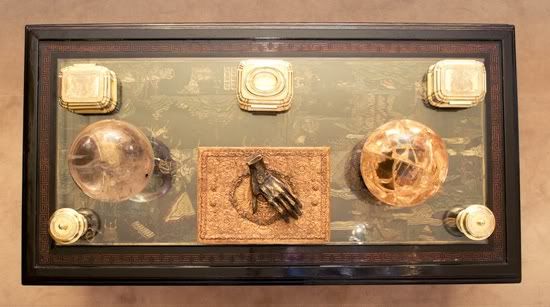 The gold boxes were a gift from the Duke of Westminster. He offered Coco these boxes with the most beautiful and most precious metal- gold, on the inside and not on the outside. It is the idea of luxury hidden, that luxury is not something you have to showoff, only you know it is there.
Wheat symbolizes prosperity and can be seen throughout Coco's apartment.
Karl Lagerfeld "sprinkled" ears of wheat throughout his Spring-Summer 2010 collection: showers of golden wheat ears were embroidered or cropped up on chain belts, bracelets, headbands, necklaces and shirt fronts.
Behold! Coco's desk where she sketched at and her very own glasses. Remember we told you about those peculiar things our camera captured? We took this exact picture on our digital cameras and when we looked at the photo later, the glasses were blurred out and all that remained was this mysterious, glowing light. Call us crazy, but we're pretty sure Coco was sending us some sort of sign!
The clear table in this picture was the first piece of merchandising furniture for CHANEL. Coco asked the designer to do something very clean and very simple to have all the costume jewelry, make-up, skincare, and perfume merchandised. It was to enhance the beauty of the product. At the time, it was very clever as she was one of the firsts to do this.
Coco believed that it was more important to have luxury on the inside then to have it displayed for everyone to see on the outside.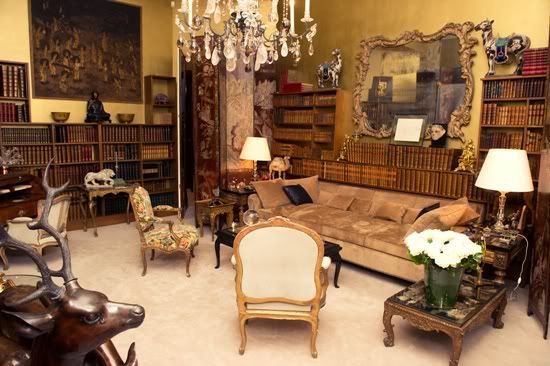 While journalists visited Coco in the salon, it also hosted many of her famous friends such as Elizabeth Taylor, Salvador Dali and Pablo Picasso.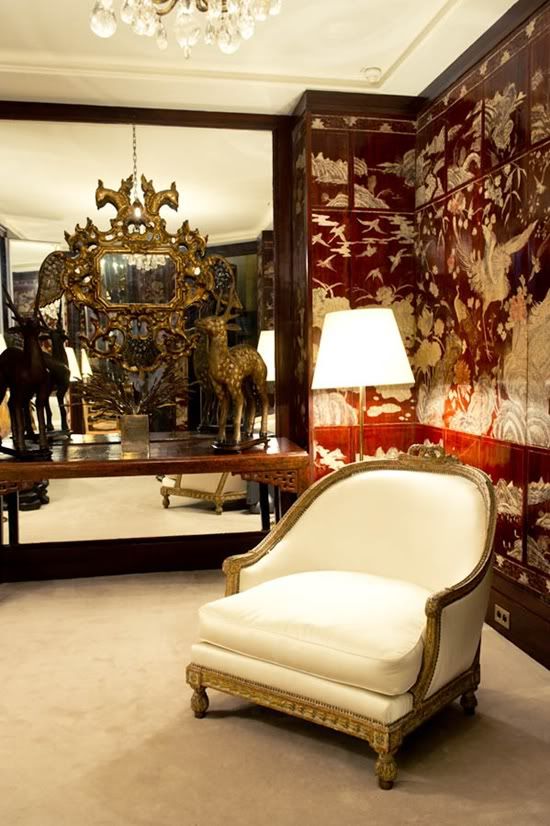 Coco was photographed many times in this iconic white chair. The octagonal shape of the mirror on the wall was the inspiration for the cap of CHANEL No.5. It is also the same shape of the iconic Place Vendome, which Coco could see out of her window of her residence at the Ritz Hotel.
The camellia flower was also very important to Coco Chanel. It symbolized purity and longevity in Asia and was very prevalent in her designs.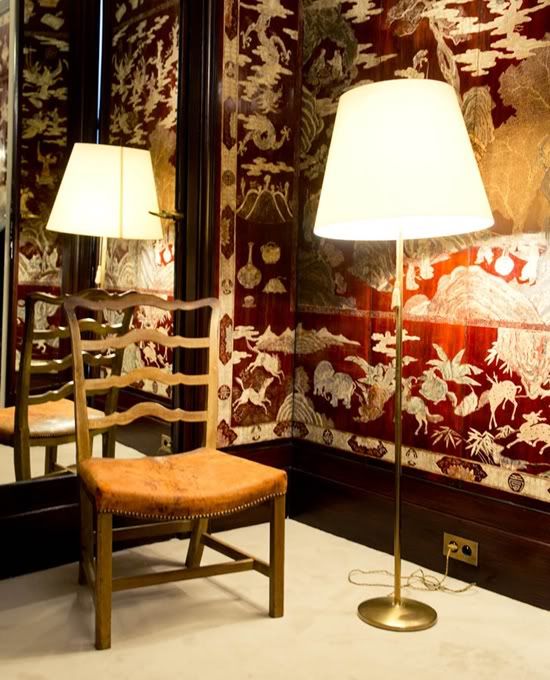 The entrance to Coco's apartment where an original work chair remains. Lower chairs were used for fittings as it was easier to sew and work with the fabric being lower to the ground.
In contrast to Coco's personal space, the staircase had a heavy art- deco influence.
Source: thecoveteur.com